The Fifteen Hour Siege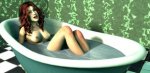 Thu, 27 Nov 2014
 9 p.m.
My friend Ann had a big prob-lem
Her back was e'er so sore
"Not a rub, but a nice long soak
Might help me even more"
10 p.m.
"I'm feeling somewhat better now
I'll sleep well now I know
But what's to do? I'm stuck it seems.
Don't panic, take it slow."
11 p.m.
"I've screamed and cried for o'er an hour
No help is going to come
I've left my phone outside the door
How could I be so dumb?"
11 a.m.
"I'd invited Meg and Mary Sue
To come today for tea
That's them there now, I heard the bell
I'll yell real loud, 'Help Me!'"
12 noon
I heard a noise at my front door
Someone has knocked it free
"Meg knew my problem was quite big
She'd called emergency."
1 p.m.
"The bathroom door is on the floor
I'm covered now no doubt."
"The firemen don't have a hoist!"
"We'll try to get her out."
"So one man grabbed upon my back
Another clasped my front
And then with one almighty heave
I popped out with a grunt."
2 p.m.
So next time you see on TV
The ad for a soaking bath
And wish for a fireman to join you
Think twice, it's not a laugh.