What the sky said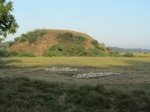 Sun, 01 Feb 2015
1 likes
It had been a hard climb already – out of the wooded valley and up on to the moorland, sun-drenched and golden with gorse flower. I arrived at an old barrow mound half-submerged in heather, and its gaunt, grey occupant watched me pass before disappearing back inside with a weary shrug.
I was a young man when I'd first sought communion with the spirit world: enthusiastically pouring over dusty old volumes, deciphering the ramblings of obscure magi, full of reckless enthusiasm. As I grew skilled in picking out the dead voices and identifying their shades, the money began to flow in from those who were desperate or curious enough to listen. But my connection grew ever stronger and the spirits multiplied until I could hardly think – not just a few haunted houses, but from overflowing cemeteries and every ancient battlefield, hanging ground, or suicides' bridge. The clamour was deafening and incessant.
Far above the valley, beyond the barrows, I lay in the long grass and gazed at the bright emptiness above. A lark was singing, invisible; then I heard its ghost, and the ghost of its ghost, ever-multiplying; a thousand centuries of birdsong praising the blue heavens and high summer sun.