The death of beauty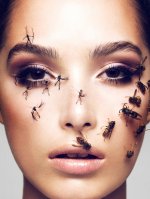 Tue, 17 Feb 2015
1 likes
Searching for inspiration on a topic that has all but escaped me, I google 'pictures of beauty', hoping to find cute animals snuggling up to their mothers with dad looking out for trouble, rugged and deep forests dark with mystery, shimmering seascapes to swim into, awesome vistas to dive from and delicate flowers to sigh to, so I'm surprised when my screen is filled with photoshopped faces of women covered in make-up. Red lips, white faces, no blacks or even coloureds; just red and white, the colours of patriarchal pride.
Most of the women look like a slutty Sleeping Beauty on acid, unsmiling, wasted, but some have vague pouts, holding up wands to dust their chiselled cheeks. I can hear the gay photographers scratching their stubble, saying things like, 'laaavely', 'beauuutiful', 'you're an aaangel', 'that's it, don't move', 'perrfect', 'stay there', thinking 'fuckbrain', 'whore', 'ugly twat', 'wouldn't touch you with a bargepole', 'get on with it'.
I scroll down and find one picture of an old bloke in a red jacket on a paisley sofa, smoking and looking into nowhere like a pervert while a woman/vixen writhes on the floor stroking herself into an ecstacy daze.
There's one picture of a gormless male model under the caption, 'The line of beauty', and further down I find a picture of a flower, but it's computer-generated and belongs on a Chinese restaurant menu.
Feelings of irrepressible sadness, morose confusion and hot anger come over me, the like of which I haven't experienced since being cast as the butt of a big joke in the family courts.
They all look so sad and angry too, all those painted faces, all those prickly puppets of pomp; untouchable, cold, mummified.
I remember the stunning married tart who came back from the races and knocked on my door with a bottle of champagne. She asked me to stick it up her but I declined. She said she wanted to be hurt and I felt sorry for her so I shagged her and caught a dose of the clap. i'm glad I didn't go down on her.
Googling 'dodgy ingredients in make-up', I note that there's whale vomit in perfume and bull semen in hair products. Lipstick comes with crushed parasitic beetles and slaughterhouse fat. The grease from animal fur helps them take it all off but that doesn't stop them infecting themselves overnight - moisturizers are full of snail ooze and infant foreskins.
Slaves of invention giddy from illusion, scientists guiding us away from outward beauty, and now they're perfecting our corruption inwardly, to the heart of humanity's beauty. Hawkins is right to fear that artificial intelligence will be the death of us.
I see they're watching again. The screen flickers for a millisecond as a round, milky light brightens in the middle of my Mac's screen. I check my internet connection and it falters, the blue line of the search bar stagnant.
I pick my nose, find a bogey and give them the one-fingered salute.