Beaujolais Days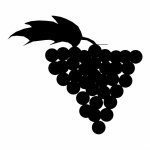 Mon, 23 Feb 2015
A tasselled cushion smugly covets
your armchair – dinted, yet, by your form
and the suggestion of a slope of your shoulders...
warm still from you...
Beside it – a vase bejewelled by red tulips – 
belying the veil of snow outside, and feel
no rancour, that, as I read the lines you penned, 
your day was obese with sweeping fields of flax, 
and autumn-torched trees...
or that, on the sill...last night's votives 
wept bitter tears on your not coming home
(now dried, in the grizzled glare of morning)
albeit, apparently for you, they were ablaze – 
quivering, quavering in a whirlwind of passion. 
Jealous, as I am, how can I deny I feel no pleasure
you have eyes to praise them, and inspiration 
enough to write?
ooo000ooo
Glancing outside, as blue shadows
bow, in homage, to the slipping of the sun
behind the brow of a distant hill, 
let this kiss I blow into the ether reach you,
wherever you are, whoever you're with,
and know it was for you, I lived. 
If I were a poet I'd find the words,
the similes, the metaphors...the rhymes,
to tell you so...and yet, don't 
you always say, Show
don't tell?
And what speaks louder than this?
I drink a toast, my dear, my own, my darling, 
your health.  And mine?  Life - death,
much the same from where I'm sitting...
a bitter pill to swallow
and how bitter-sweet
the Beaujolais...and
the goodbyes.