The Life Saver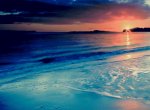 Sat, 01 Aug 2015
I tripped and trailed through arid sand 

along the twisting path of fears and tears

that led my weary feet through cut of grass 

and lizard reeds that opened up eventually the beach, 



and there you were, stood face to evening waves 

that washed upon the silky shore. 

A sudden thought - (a premonition?) made you turn

to see me run out clothed into the shallows.



You laughed at first, to spy me rush upon the water,

delighted as I stretched into the deep, and then

aghast to see me rise all broken in the lightening splash 

of moon on ocean. And disappear again.





Brave, you ran into the choppy water; called 

my name; held out your arms, but I couldn't hear, 

or reach you, and your love of the sea had

never granted you a wish to swim. And still, you dove right in;



caught my hair in one swift hand before I fell down to the bed;

drew me to you; waded us to safety on the shore - held me

warm, and in your eyes I saw the silvery moon 

beam brightly down on me - beached - no longer strong



enough to swim for life - you saved me. Hand in hand 

we walked that length of beach all night, into a gentle dawn,

until we sunk into the damp and salty sand, as pale

the watery sun rose from the sea - and we were gone.