And then us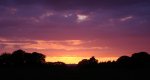 Tue, 18 Aug 2015
1 likes
And then us,
under a wide, purpling sky
gently linted
with soft, yellow clouds. And
then the birdsong
in the key of evening
curtly tuning
the calcified stone. And
then the neighbour,
his bike lock jangling,
in the courtyard below. And
then the mind's
 
odd, engraving darkness,
…the salted slug…
 
But then you,
your skin becoming light:
the sun-caught dust around you
golden, stellar and unspeakably bright.