Longing or '**** you, next door's cat.'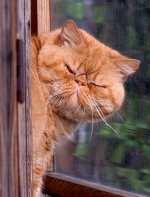 Sat, 12 Sep 2015
Fuck you, next door's cat,
sunk in smug puddles of riddled fur,
curled like a purring, steaming turd.
Fuck you, next door's cat,
shitting on MY roof,
tongue hung in lolling, languid pools,
ass like the wrong end of a child's balloon.
Up yours, next door's cat.
I aim a rock at the roof rat,
smirking illusion shatters,
fucking cat,
you're everything I should have had.
Your slinking bravery of complacency's
too much for me and all that soaks
through paper shells to distract me
from drowning suns
and dead star beams.
I hate the cat I've failed to tame,
our love's an edge, a thronged two-way
of praise and blame.
And me, I thought I'd grown all the way up,
that its lesson had stuck.
The one that said I don't have to try to fuck
everyone I like, or like
everyone I fuck.