'Made in India'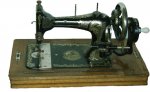 Mon, 05 Oct 2015
Treat myself to a new dress
for my niece's twenty-first. 
Was a giveaway for what it was...
hand embroidered flowers on pink satin, 
with sequins and beads.
'Made in India' the label read;
in one of the pockets, a slip of paper 
Inspected by No. 23.
Try to imagine what they look like – 
No. 23...chatting to No. 24, perhaps, 
about family... kids; how the youngest
is teething – keeping them up all night
and that pretty soon, god willing,
there'd be yet another mouth to feed,
another bowl of rice to find.
Maybe, I should tell them – a small daisy,
on the sleeve was missing a petal,
and the thread had snagged
on a couple of roses...
or maybe, remind myself and No. 23
of the words of  Leonard Cohen:
'There's a crack in everything so the light 
gets through', 
but I doubt they'd hear me over the whir
of the sewing machines as they
thread another bead...