People Smugglers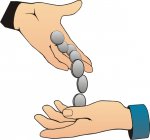 Tue, 13 Oct 2015
'Can you take me away
from the bombs and mess?
And can you be trusted?
– unlikely, I guess.
'How much must I pay you?
It's all that I own.
Dare I pay in advance?
– guarantees unknown.
'Is your route really safe,
destination sure,
with room for another,
a welcome secure?
'And can I adjust to
a country afar?
a people, a culture
that's not at war?
[IP: poetry or prose which contains at least three questions]