The Gurkha Soldier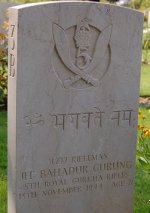 Sat, 31 Oct 2015
Bravest of the brave,
most generous of the generous,
never had country
more faithful friends
than you.
Professor Sir Ralph Turner MC
He strolls in tepid English sun,
hands clasped in small of back.
Sparrow-haired, textiled,
wife paces ten behind.
His temperate nod greets
lukewarm welcomes,
some stares,
comments whispered,
"...thought they'd all gone."
He smiles at foreign tongues
sharp as khukuri. Kneels and whispers
well done – shᾱbᾱsh, Gurung
in honour of fallen friends.
With the sign of the twelve, 
he prays over obese streets
and marches on,
holding worlds together,
manhandling
an oasis of calm
in a place,
evacuated.