Guarding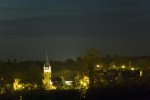 Mon, 07 Dec 2015
Driving through the night-
Norman churches resting on
Low hills.
Lintels lit by car lamps.
Thousands travel past
Jogged perhaps to think of years gone
Maybe jolted to think of God,
Their wedding. Graves.
Hard to go within
When racing past in
Life's fast lane
Hard to slow to
Stone's pace and face
The altar of the heart
In ribs of rock.
The guarded heart tightly held,
Waiting,  illuminated by flashes, bearable this way.