Stars of Wonder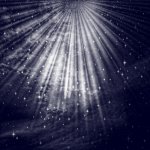 Wed, 23 Dec 2015
They cannot scare me with their empty spaces
between stars – stars where no human race is.
I have it in me so much nearer home
to scare myself with my own desert places.
Robert Frost
Sleep evades me – one o'clock, or so...
beyond the window the water-logged blackness
of the fields – lit by a sometime-moon...
stretches out before me like bolts
of shot-silk.
The hoarse bark of a fox – the screech
of a barn-owl; they do not quake in the hot flicker
of a million stars, no more than they count
the hours, day, months or years
nor do they see how life was interrupted here –
the undinted pillow, the unkept diary...the rocking chair –
mocks me with its stillness, the shed with its blinded eye 
and gangrenous frame – once he made my sewing table in.
How I pick up my pen – seek to fill 
negative nothingness with my scribblings – begin 
and begin again, in my quest for a less lonely loneliness; 
my own, personal wilderness fuelled by a single star – 
knows nothing, and cares even less about things 
such as these;
even that evening we sat, we two, 
where a blueberry sky came down to meet 
a wafting shawl of pines, and saw a myriad of stars
all a-tumble, 
knowing when it's time to be born,
to rise, to blaze, to mystify, to bedazzle...
time to fall.