A Borderline Case (Poetry Monthly)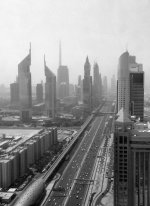 Sat, 06 Feb 2016
A photo – monochrome, gilt framed;
a downtown street in Dubai.
A figure strewn, like an old, grey blanket by the kerb;
in early morning sun, his shadow sleeps beside him
more soundly than he. His pillow – a sack 
of sweet potatoes.
A T-shirt says, 'Save Our Seals'. A pair of cut-down jeans;
one leg severed at the knee. Laced between his fingers –
prayer  beads, and at his shoulder, Jumeirah Beach Hotel
looms large in all it splendour; 
and but a stone's throw away, Sonapur...a work camp – 
conditions so bad its existence denied by any map,  but where he 
and others like him are interred.  Migrants from India, Bangladesh  
and China; passports forcibly seized at the border
those in search of a better life will not find it in the UAE –
where class divides – an impenetrable  line, more impossible
to cross than any man-made frontier, mountain range,
ocean, river or sea.
A three-tier society; the topmost echelon – indigenous Emiratis  
then, of course, the necessary evil of ex-pats and at the bottom...
men like him who raised it from the sand, pillar on pillar, brick
on brick, stone on stone.
A photo – monochrome, gilt-edged;
a downtown street in Dubai,  leading him, 
no matter where he heads...either north, south, east, or west...
further from home.