The Making of Love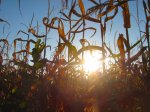 Tue, 09 Feb 2016
Sunday – Mum and Dad's 'lie-in'. My turn
to get breakfast. Creep up the stairs...peep through 
a crack in their bedroom door.
Catch my breath; my dad – dressing my mum;
brushing – plaiting her hair, so carefully. Talking
in a special kind of voice, like when our cat 
was having her kittens....
He sings to her...softly, at first, then his timbre
takes on a certain sense of urgency....'Bringing in the Sheaves', 
he tells her.  'You know this one, love.  Remember?'
Says for her to join in. Come on, pet...you recall 
the words...you know you do...hoping, by some miracle, 
she did, today ,at least; a Mission hymn from way back...
from when they were kids.
Kneels beside her chair – shuts his eyes
like he's saying a prayer...strokes her arm
then holds her hand. 
Takes some scissors from the drawer to trim her nails, 
but they catch the light, put the fear of god in her.  
It's all alright, he says, and, indeed it was; 
at the tender age of eight, plus that all important
quarter, I found out, that morning,
how love was made.