According to the Birdie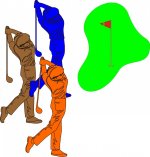 Thu, 11 Feb 2016
1 likes
O little birdie on the tree,
what are you watching, what d'you see?
'Someone swinging with his pole
to push a ball towards a hole.
"Impatience always is my bogey",
one man below with gloom admits,
"young Clive here calmly gauges, as he
his chosen iron club commits".
"Then mine's a double bogey, Fred
– impatience and a sense of fun –
I cannot take too seriously
this weekly sport I have begun.
"I do enjoy the company –
I'd never otherwise walk far,
but don't remember, think or care
if I'm above or under par!"
The comrades walk the fairways green,
and share their ups and downs, these three,
and near the wood, in rough's frustrations,
their teasing fits them to a tee.
But someone called, "An eagle there"
in fright and haste I flew up high,
my eyes swept, scanning all around,     
perplexed, viewed but an empty sky.'
[IP: use some or all of: bogey   double bogey    par       birdie       eagle       tee     green     fairway    iron   wood]