Radioactivation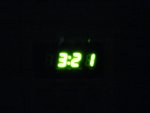 Mon, 15 Feb 2016
We can block them out by day

but in the troubl-us hours of nightflairs

they echo loud and clear.



*Fair amount of success with thechem-

*Certain to be swel-  edema

*Chest wall   neck   lung dam - burni...  

*cough   possibl-,  arm    no say...ing

*Nothi  we ca - predict predict -

*wait and see. Better tha... nthe-alternative...

*With an aim of pro...   long Outcome... ?

Echo

Echo

Echo



on and on till dawn, when oblivious,

the sun radiates from nowhere

to glare on welcome sleep.