Painting the Homeless Godly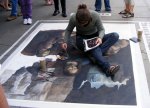 Thu, 25 Feb 2016
As long as spots go, hand in hand, with chickenpox 
so Billy was always there in the pitch next to mine –
at the junction of Falton Street, and Greene Avenue; 
watching  me paint, but he never spoke.
A bag of bones on a spineless street, summed him up, 
and I often wonder if he inhabits it still – that skin
and if it still longs for  love and compassion.
He ever was my inspiration...the ideal artist's model.
No posing.  What you saw, exactly what you got;
an aura about him...his eyes – alive, somehow 
with the intangible light of a martyr's, a greyer
shade of, 'Why?'
Then, one day, he just wasn't there anymore...
whittling chips of wood into clothes pegs..
Did a roaring trade...a chip off the old block,
doing what his dad had done, and his before.
So I raised him up. None can ignore him now;
a boarded up church – a blank canvas, too good
to resist...
To him I give a carmine cloak to warm 
the sun starved  valley of his shoulders, add a glint 
to those grey eyes of his...and if grey indeed is 
the colour of Hope, give him a candle to see it by.