Nuthoused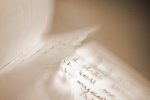 Fri, 04 Mar 2016
Drawn curtain - you - flashed back,

unwanted, but you know it, 

somewhere...

some time,

I plucked up courage

and said it - told you to go. 



But blink, and it's your smirk; your hobbling

bones, I see, gyrating joy, expressing hate - writhing 

forever in a sick-bedded gleam of sarcasm, the echo scream 

faded in the dulled glass of your eye. I glimpse a rip in a page 

of my life and wonder where 

your passion eventually settled, and if

I tried better, harder, could I handle it - 



catch it - squash it - lob it far aside.

My first and last wish every day / night - to see you

vanished in the distance. Explain to me please, 

how can it be healthy



to sweat beneath your overbearing handedness, while all the while

my anxiousness excited; thrilled you to giggling bits,

as you wheezed and chucked up motherhood all

over the watery waverings of my own sanity? 



I try my hardest, not to cave,

but you break each sacred silence 

with your incessant howling of prayers

belched out in every peaceful place you overtake. You spoke



of torment and disorder, 

and I cannot help but wonder

if there's somewhere deep inside of me, a final burst 

of something I could muster

in order to forget.  Forget?



No, it's beyond my capability to lose you,

even though I long to do so, since you occupy -

disturb each recess of my spitting brain. In sleep 

and wake - I think too much....

I want to concentrate 



my efforts to keep a distance; myself from crazy.

Am I like you, not you? It seems every time I manage 

for a minute, to escape, there you are again, clinging, sucking

like a leach on my stability.



Hope it's not hereditary - your particular insanity -

you scared me; scarred me, in a billion ruined yesterdays

as much as you do in death. 
And I wanted you to go.