Stumpy Toddy (Wren)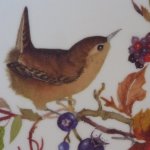 Wed, 06 Apr 2016
Busy tiny wren
ball of feathers brown,
weaving through the brambles
nooks and crannies' tangles
unnoticed and alert,
perky sail-tail, pert,
quietly grubs around.
Emerging up to sing –
phenomenal the sound,
with quivering effort, thrills
to pour out rushing,
gushing, powerful trills.
Deep winter nights collect
together, many huddle
in numbers to protect
from killing cold, by cuddle.