A Myriad of Hope. poem 1st draft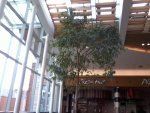 Mon, 04 Jul 2016
A Myriad of Hope.
A multitude of people walk by, intent
on future career plans perhaps.
A myriad of hopes.
Their faces closed, glazed with fashion;
sparkle, the eyes sing the glory of life.
A boredom.  Begin, and then begin.
They are unknown warriors on the brink;
slick city dwellers, sharply aware,
that there is an end to the  sunshine.
I might have been with them - once.
A young adult who stumbled into friendship.
Into life's drama of what and who and when.
I half admire their easy confidence - 
the way they walk, proud, upright.
I wonder if they will bend or break.
when the wind blows stronger each day;
through the needle fine Silver birch,
that lines the walk way.