The Body Politic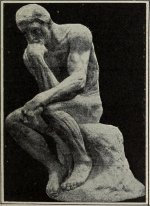 Wed, 20 Jul 2016
Beneath the empty swing of a barren pub sign,
surrounded by his own scattered fag ash,
sits, chinless, a man with more collar than neck.
Within each red and in every black stripe of tailored shirt lies
a column of smouldering plus and ashen minus. 
He's looking left on a 'look right' kerbstone,
his face a bullet 
hammered into a shining coin.
The heat and the rubbish from the street swirl,
massage his temple, move his thoughts to the muse
in your wallet.
He's sat alone,
Rodin's forgotten son,
red-braced for the banker's revolution,
a lonely thinker,
money on his mind. 
Bastard Atlas holding up the world.
He's at 100 whilst I'm in reverse,
stood there,
with the generations of fag ends at his feet.