Away from the sunrise in a solemn dance - part 2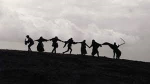 Wed, 10 Aug 2016
http://www.abctales.com/story/noo/away-sunrise-solemn-dance-part-1
*
In life, you lose what you don't hold on to.  I know this sounds little better than Facebook philosophy, but it doesn't mean it's not true. When I think about Mama Custodian, it's this assertion above all else I think about.
I'm in another landscape now – one full of the sea's ozone and morose sounding seagulls – and it feel strange to be writing about one landscape when you're in another so different.  But no matter, the desert always pulls me back.  San Jon, New Mexico, with its high, wild winds. The smell of burnt earth in the evening.  The dry air wrapping round your legs, like a needy dog.
When news broke of Mama Custodian and what she kept in her house, I was in the bar, drinking hot, sweet coffee to roust me back from an evening of whisky and failed sexual conquest.  I remember it was morning, quiet and still, but with the day already winding up to its slow routine.  The bar was nowhere near full at this hour, but there were enough people in there already to make its opening worthwhile for its taciturn owner.
As the door of the bar swung open to let in the guys who swept Main Street every day, everyone looked through it, caught by the lure of wailing police sirens further up the street.  I suppose I hadn't even missed Mama Custodian in her usual place, and there's something damnably sad in that.  I could give you the excuse that was a sharp wind that morning and I'd walked to the bar with my head down against it and the previous night's shame.  But the truth us, she wasn't important enough to me.  Little more than a curiosity or landmark on my walk to the bar, I wasn't looking in the direction of the convenience store and didn't see the empty barrel where she usually sat or notice the fact the store's stoop looked bigger because her grocery bags weren't cluttering it.
I hadn't realised which was her house – there was no reason I would have known, I suppose.  But I remember feeling some kind of surprise when I saw where the cop cars had stopped and I saw Mama Custodian being led out of a particular house.  It was one of the survivors – one of the judgemental, purse-lipped houses. Painted a sky blue, hanging baskets of lavender and sage at the windows.  A welcome mat, decorated with a striped kitten, outside the yellow door.
Everyone came out of the bar to see the walk she made from her door to the waiting police car.  She was wearing a muted floral dress, dirty and too big for her.  Her hands were cuffed and she was being led by a woman police officer who stared straight ahead.  Her brother walked a few paces behind her, a smaller and more tired version of himself.  I remember she stopped a few times and bent over as if to scratch her knees and I noticed how swollen and vulnerable her bare feet looked.
And what was it she had done?  The newspapers and the talk in the bar fitted it together.  Of course, the papers went for sensationalist judgement but the residents of San Jon went for something kinder.  After the first few days, there was in fact little talk and what talk there was, was of the quiet and soft kind.  This told me the town knew about her all along. They knew and looked after their own.  Every one of that population 200 mattered and they tried to soften her pain with the comfort of groceries in brown paper bags.
In Mama Custodian's pristine house, the authorities found the bodies of seven babies.  Born over years, ranging from five months to full term.  Perfect, Rotted dry.  Bones in the shape of tiny dolls.  They were wrapped in newspaper and placed in drawers and closets, one in a washing bowl under the kitchen sink.  Each body had a piece of paper placed on it with its name - Cody, Dana, Evangeline, Thomas, Miriam, Howie, Jess - and a grey-pink desert rose. 
There was no sense Mama Custodian had ever had a long term partner, but talk was of the men coming and going over time –the men drifting through, like hazy, matted tumbleweed.  Sweeping Mama Custodian along in their careless, haphazard path. The babies were the aftermath, the residue. Created yes, but not born with enough fire or vitality to survive - almost like the desert had sapped it out of them before they'd even had chance to begin.  These babies, Mama Custodian's children.
I drifted too – into another landscape, another decade.  Into a life with more solidity and pattern and I wondered whether this was what Mama Custodian had wanted.  What she had been trying to keep hold of, but could have never attained in the boom and bust of San Jon.  These days, when I'm holding my kids, revelling in the luxury of being able to hug them and ruffle their hair, I wonder whether I deserve them any more than Mama Custodian didn't deserve hers.
I've read about her a few times since.  She got that weird combination of support and punishment, pity and derision, and I don't know, maybe incarceration suited her.  I think I read in the last few years she'd got a qualification in some kind of religious philosophy and was looking to continue in her studies.  The last picture I saw of her on some newsfeed was of an old woman, much bigger than she'd been when I'd known her.  A lined, woman mountain in some kind of trouser-suit. Big, pink and sad.
It's not how I want to remember her though, so I've put my own image over the memory of that picture.  It's a version of a scene from the old, Swedish film, The Seventh Seal – you know the one, where Death plays chess with the Knight?  The scene I'm thinking of is where Death is dancing with the people he's leading away with him – austere silhouettes against a grey sky, dancing on a curve of black earth.  But what I like to think of is Mama Custodian on a cool, desert morning, when the warmth of the day has not yet claimed the air and so the temperature is still bearable.  She's leading her children, holding their hands.  There are seven of them and they're sun-kissed and vital.  She's leading them onwards in to the future and she's smiling.  They all are, as they move away from the sunrise in a not so solemn dance.
*
(The title is a line from the film, 'The Seventh Seal'.)