A Cancelled Passport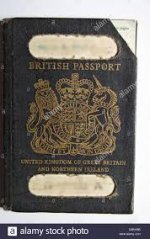 Wed, 01 Mar 2017
'You're wearing a suit and tie!'
Mr Peter Francis Lockyer. Place of birth Exeter. Occupation student - scored out - new occupation travel broker.
'I went to Poland first'
I flick through his old black passport with the top right  ear cut off.Overleaf are the four CANCELLED stamps. The vandalism by the Home Office of something now deemed unfit for use.
'Yes, here's the stamp, the Eagle, the flag of Poland and let's have a read of this - polsky wolsky prawnia, you were eating prawns in Poland!'
My humour is pathetic. My father is a Pole but I was denied the language because of my mother's obsession with being 'more English than the English.'
Where next Pete? I turn the page. 1972 GDR, East Germany, then Communist and behind the Iron Curtain.The stamp is a pair of compasses squaring a hammer; symbolising the tools of the worker and with a hint of Masonic imagery.
'I was tidying upstairs Elsie so I brought my passport so you can see I've been about a bit. Should  have renewed my seaman's ticket, had to do that each year.'
There are plenty more stamps ahead, almost filling the book to the last page.
'And now you've got your Manx passport.'This is almost identical to the standard British passport with the addition of 'The Isle of Man' in small letters on the inner front page. The Isle of Man  is a Crown Dependency, Queen Elizabeth is Lord of Man. Pete lived and worked there for thirty years and has the cat to show for it. Almost on cue Sugarlump pads up, a true 'rumpy'  tail-less Manx, a little native stray who wandered into the middle of a closed off road when she was 12 weeks old with no signs of ownership. She is now 16 and shares Petes fondness for classical and world music.
I turn back to Pete's old cancelled passport, spotting something new.
'Hey, this was issued in 1967, expired in 1972 and then re-issued for a further five years. Did passports use to be on a five year system?'
'That's right and all my amounts of foreign exchange are entered on the back page. This was before we joined the Common Market. I had to buy money at the bank and the bank stamped my passport. I was only allowed to take so much abroad.The Tories haven't thought Brexit through at all, big mistake from start to finish.
'Your first bit of foreign money - ten pounds. So that was your pocket money on board ship!
'Not quite, I got paid about £2.50 a week.'
Pete was a cabin boy with the Lyle Shipping Company in 1960. The trade was sugar, Australian sugar carried to England. On the journey out the ship would travel from port to port in the direction of Australia picking up and unloading cargo en route. Pete's first stop was Norway, carrying cement to Bridport, Connecticut. On the trip home to England they stopped only to restock and to refuel, in Singapore and then in Aden. He was away for eleven months.
'It changed my life.  After that I worked to travel. I was like that for about fifteen years, working, saving my money and hitching all over the world.'
The stamps and national icons inside the heavy black document tell the tale. Turkey, the stamps with the Cyrillics below. Bulgaria, Pakistan entered through Turkhan Khyber, Iran a multiple entry stamp, then the print of the Afghan Embassy.
'Your picture, Pete, the big heavy-frame specs, the bushy hair. I looked that in 1972 on my first passport. I had layered hair and a bubble blouse with my collarpoints over my V-neck jumper. We all looked so pale and serious. Some of that was down to the harsh glare of the lamp beneath the photographer's parasol. Maybe it was also because we had a greater sense of occasion.
Those two car pictures on the left side of the page, what's that about?'
' Those pictures are from when I was hitching and was a car passenger.They show that when I entered a country in a car I left in a car. The drivers got the same stamps. A driver was not allowed to sell their car till they got home.'
One last icon catches my eye. A spindle shape like one of the symbols in a Mah Jongh set, with the word Hanoda.
'Is this Japan?'
''Look at the stamp on the left hand side. Extension of stay 180 days. Not sure if I told you, that was when I went into the monastery and became a novice Buddhist monk.'
'WOW!'
(inspired by a good friend of mine, name changed a little)