Wrath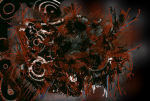 Sun, 11 Jun 2017
The anger drains away,
Running cold down a network of veins
Replaced by familiar hollowed out guilt,
By that voice
By the blood on his knuckles,
Condemnation written on bone.
She has soft eyes,
 A colour that mixes hazelnut with citrine with autumn leaves and midwestern rust.
She busies herself in the kitchen and won't look at him with those eyes.
Makes a show of drying the dishes.
"It's all right.  It's nothing."
She tilts her head away so he can't see what he's done.
Ice congeals in his heart,
It has nowhere else to go.
His chest aches with it, weighed down unto breaking.
He can see backwards, catches a glimpse in the mirror.
His fist reddened. The drunken leer.  The trauma-maddened eyes.
Her voice used to tell him: don't cry, don't cry;
Now it would tell him - these eviscerating words:
You're just like your father.
Picture credit/discredit:  author's own work