Girl In A Picture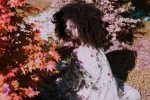 Mon, 02 Oct 2017
Picture from pixabay free
Through brushwood
sits enigmatic girl,
behind shadowed
Autumnal leaves,
nestled...soft,
pensive contours
gesturing a child
so appealing,
is there a sparkle
somewhere in those
eyes, reminding me
of someone I once knew?
My memory see-saws
with fragments,
like the ups and
downs of life,
getting blown away,
tossed like Autumn's
season; disappearing
in mists of forever.
Trying to grasp each
recalled vision, but
for now your beauty
will have to do,
wish I was a seer,
not cloaked in psychic
obsession, but swept away
on the enchantment of you,
perhaps if I gaze long enough
I'll have those tranquil dreams,
my October friend and I will be
gleaming like sunshine beams.