The Black Book Restored: Fragments 1A to 33 (second half)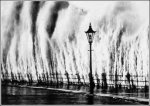 Wed, 18 Oct 2017
The Black Book Restored: Fragments 1A to 33
Sometimes, the mud flats and reed beds form an unspoiled nature reserve.
Only the night before, I had watched the same waves on the local news: breaking against the sea wall in ten metre high showers of silver. Spectacular as fireworks.
... and for the session he had to turn it into a 'polythene box' to prevent spillage...
Sick of sunshine, sick of questions,
sick of the twittering of tree rats.
Sick. Sick of sickness...
Remember how I used to make up my own lyrics to popular songs and the disappointment I felt when I saw them written down What looks like a ski lift offers a route down to the beach. I prefer to follow the switchback paths to the wooden deck of the Pier.

 

I was a random British pisshead, faceplanted
on a random British pavement...

 

Rain on the bonnet of my car
ate my reflection: each droplet
a mirror voracious that spat
my face. I drove away
in a swish of streetlights
and blindly found a road
that curved away between an avenue
of amputated hands, stretch reaching
for a home run hit ball moon.

 

... so you have much more of a sense of human beings playing it...

 

No more heroes. No. More. Heroes. I enter the Amusement Arcade and roam between the slot machines. though i have a pocket full of small coins, I am not tempted to spend them.

 

golden light through my neighbour's windows - tempura
spread with a palette knife – the quality of shadows
within renaissance frames – candles gutter and smoke
as the souls of animals deliquesce, released
from melting fat – but...

 

"Still reading comics?" He stamped down on the scattered pages before they could fly away. "You baby!"

 

"You one of his friends, sweetheart?" It's my uncle Jimmy, looking like a gangster in pinstripes.

 

Sometimes, the island is overwhelmed by floods and I retreat to higher ground.

 

"... tidal surge, the likes of which has not hit these shores since 1953..." The TV reporter had spoken over black-and-white footage of Kirkston's flooded streets.

 

... they left the Earth as Soviets, but returned as Russians...

 

On my first day, I got lost. Walked in
the wrong gate and could not find a soul
who was expecting me. Office to
office, I passed in panic, getting
later all the while. Then I met you:

 

Chase each fragile dream like a hamster escaped from its cage A row of What The Butler Saw peep shows warn that you have to be over 16 to view them. There is no attendant to enforce this rule, yet I feel uncomfortable just walking past them.

 

the batteries in the remote are weak
and the channel does not change

 

Swerved to avoid a man
who ran into my path: looked
into eyes crazy, crazed my windscreen.
Crashed the roadside barrier,
dashed a boulder, hit the dash -
splashed into a crimson whirlpool,
swirl of rainbow petrol, flames
the colour of my lost love's hair -
smashed through open the first door down.

 

... you should never overlook an opportunity to be brief...

 

When the bottle is empty, so is my head When I return, I find my parents have not missed me. Mum taps a boiled egg to crack its shell and gives it to me to peel.

 

Whether you like it or not, there is one
true meaning and all else is rough fancy...

 

The traffic stopped and he sauntered across the road. As a final gesture of contempt, he lobbed my empty satchel at me. I raised my hands to defend my face and slapped it to the ground.

 

"Work colleague," I croak, not used to my new voice.

 

Today, I remember father telling me that people came here to take the air, for the therapeutic properties of ozone.

 

The cold soaked through the soles of my trainers as I followed the concrete curve of that same battered wall. Not as brutalist as Berlin. But it separated the western seaside town from the old eastern village of Kirkston Neith.

 

... it symbolises a cudgel-wielding rejuvenation after a time of personal travails...

 

Linda, you saved me. In a corridor
of nameless doors...

 

Describe the doodles in the margins Our caravan does not have a television. When I turn the dial on the radio, the oscillating whistle between stations sounds as if I am tuning in to whale song.

 

Parts of me hurt where once, I'm sure,
I never had those parts. Forget
my heart. I'm talking about flesh.
Those fallen muscles that wobble...

 

Three kings in rusted armour sat
on thrones of broken swords,
within a circle steel of weapons.
Choose your blade, they challenged.
And when I refused, resigned
themselves. We shall smite you
where you stand. Advanced in iron,
grinding as their fleshless bones
grimaced. Defend yourself or die.

 

... films are like pop songs, they stick in the mind...

 

White space need not be filled, rather shovelled aside like snow to reveal what is buried I have been studying French for three years at school, but cannot decipher the babble of continental DJs.

 

I owe it to the world to watch,
having paid my licence fee for
the privilege of circuses
and a dry loaf, fit to feed ducks...

 

Eyes burning and vision swimming, but somehow holding back tears, I bent down and gathered my papers together. Stuffed them back in my satchel, careless of creases. One of the pages bore a muddy shoe-print, which would doubtless get me in trouble when I handed in my homework.

 

"Well, you're welcome to come back with us for a drink," he offers.

 

To me, the sea breeze is as pungent as bleach; my sinuses scrambled by years of being a City dweller.

 

... sweet and sour... or salty sweet...

 

It is that feeling, late on Sunday,
when I haven't done my homework
and contemplate staying up late
to scratch the white spaces with my nib
and reveal the vein of words beneath.

 

The pink medicine I was prescribed as a child was supposed to taste of cherries, yet needed a sugar lump to mask its bitterness When at home, I read a book every day; sometimes staying up past 2 in the morning to finish the story. Dad only let me pack one paperback to last the week.

 

If I thought my life were one of seven
possible plot-lines, I might well rebel.

 

Dulled edges blunt, they failed
to pierce my flesh, but dealt me
blows that bruised and cracked
my ribs. Senseless with rage,
some part of me still scorching
in my burnt-out car, I seized
an axe – or it seized me:
its pommel grip firm as a hand
in mail – an axe formed from cold shadows.

 

... what an opportunity I missed...

 

Forego the weather report, for there is nothing new about sun nor rain I emerge from its pages into the never ending blue of a sky that stretches unbroken to the horizon.

 

They moved me to a brand new ward,
where Lennon was no longer dead
and Christmas songs fell silent, drowned
beneath the stink of fresh green paint.

 

"You should stick up for yourself, love," said the lollipop man. "Don't let the little bugger get away with it."

 

"Thanks." I concentrate on moulding unfamiliar muscles into a sympathetic smile, then slip away unnoticed while my body burns.

 

It is not panic, it is dull and grey:
the tiredness of the adolescent,
when it takes energy and poise to achieve
such a peak of listlessness,
a perfect pitch...

 

When I went to see the film of Yellow Submarine, it felt afterwards as if a tree with multi-coloured branches were sprouting through the roof of my skull. Here, my thoughts are wisps of cloud dissipating in the jet stream.

 

He made it sound like my fault.