My Lady Of Damask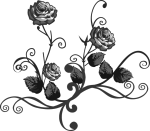 Thu, 23 Nov 2017
Into the sustenance
of fish bones and prayer
audacious climber  whose expected, expectations
shape her – shape to come
For when one's mood is of occupation
and surprise
a swirl of atoms blown softly in
shades of ladies blushing cheeks.
 Long caressing summer days fall to set
casting fire-kissed strobes of light
between the loosely layered fringes
of her languid fingertips.
So that she – with the
sighs of every maidens passion
who bridal dressed, caress
about their bouquet
of gentle lovers fashion.
All shall leave triumphant amid those
pungent lingering fragrances
Such
nocturnal tender pleasure -
Sweet o Sweet the queenliest flower
that grows
for truly vibrant  is she
my Lady of Damask...