On The Road Again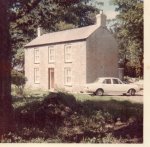 Tue, 21 Nov 2017
Photo is my own.
Does anyone remember the journey down to Cornwall from Bristol on an August bank holiday from about 1965? Because I do. This is just one trip.
It was when I was about ten and a half that
my friend and I excited in the back of the car,
breathing in fumes of mum and dad's cigarettes,
entertaining the miles of scenic route viewed,
relished at the thought of our Cornish destination,
giggling at dad's attempt to sing
lazy Sunday afternoon, his favorite
song of all time. Playing eye spy
through plastic tinted glasses as
sun beat down leaving us so hot,
kneeling on the back seat waving
frantically at lorry drivers, while
giggling and shouting: 'swinging,'
with thumbs up, but: 'dodgy,'
thumbs down when we were ignored.
Traveling dad's charted map that mum
would read, left us jam sandwiched for
hours with no chance of escape, thank
goodness for her much needed picnic
lunch of sandwiches, crisps and drink.
Ten hours later and craving for a stretch,
gasping for some lemonade or bottle of cola,
craving fish and chips,we finally made it in
one piece to that house we stayed at in
Camborne, near beautiful Godrevy beach.