Next 365 puzzles!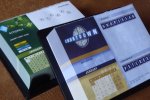 Tue, 02 Jan 2018
A puzzle a day,
brain workout by play,
stimulation
– shared challenge for two?
competition,
co-operation?
communication
– when one succeeds,
he/she may choose
to think of clues
which may confuse,
amuse,
or be the trigger
that helps the other
to figure
it out.
[IP: Next year]