Old Dog-Fox In Bleak Midwinter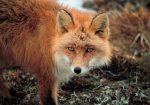 Thu, 15 Feb 2018
I was a game old dog-fox,
chest coat and brittle whiskers
white as pure memory
soft fronds and paws mute-hard
in the snow, lowliest of growls
tempered beside the holy frosted
   hedge.
I was a dope old dog fox, regular,
always into this and that
unafraid to fight, snap, snarl,
reclaim what is rightfully mine.
The church yard that I loved,
spied through milk-green eyes
   that sparkle still -
the cemetery glistening
where I used to secretly sit,
alert to voles and drunkards,
whatever passed me by,
the pious and forgotten, the prayerful
and the filthy amorous
who fondled in wolf-moon's blue shadow
slew-baited between death's stones,
snow banked like an opulent hearth -
it cooled my hot fox blood.
Behind moss-gathered vaults I hid,
my snout sunk deep into the muck
   of it all,
Old Dog-Fox attuned
to late-night shouts and whispers,
who liked to sniff, meander, the scent
and chuck of a saucy passer-by.
I roused myself without so much
as a care  to seek my rewards,
the slurries of steaming red
half chewed fat - most unnatural aromas -  
my sleek sauntering tail
pommeled on high, jaw-grabbing
discarded take-aways
that flew nonchalantly
over the sacred chapel wall
for me, Old Dog-Fox, to pinch beneath
the rough clap of couples whose
   assignations
echoed beyond the crypt and whose
breathless neck-and-tease assaulted
the slumbering dead.
I was offered these gifts and I repaid
with acceptance, carried late night treats
between my teeth without shame
light-quick and fleet of foot
across unforgiving roads, sprightly
in deep set of night
astute red ghost for you
to remember - off, off
to a field of far-away silence
where dog cubs once barked,
panted for my return, and where now
pure old white vixen
   waits.