The End of the Evening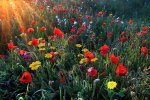 Thu, 28 Jun 2018
'Can we move the table a bit Arni, I want to be in the shade.'
Arnold removed the wine glasses and placed them carefully on the ground, he held the underneath of the table top and dragged it gently along the terrace. A knife slid off the side of his plate and he caught it, a residue of food stuck to his fingers and he wiped them on his shorts. 'The sun won't burn you now,' he said, 'it's after seven thirty.'
'Maybe but it still feels hot on my freckles..besides there's a better view of the wildflower bed from here.'
'Yes I suppose there is. Isn't it wonderful, what a splendid evening, I don't want it to end,' said Arnold as he sipped his Asti Spumanti, cool little bubbles popping beneath his nostrils.
Gaynor threw her head back and smiled. 'Yes, it's so beautiful isn't it, we've got the garden just the way we want it.' Their large garden was indeed beautiful, now cast in the deep shadows of a midsummer's evening broken up with the golden glow of the setting sun. 'All except for the Pampas Grass. I don't know why people put them in Arni.'
'They don't, they're a hangover from the seventies but like most bad things, they never seem to die young, we'll have to set fire to it or something, it looks shit.'
'Can't you dig it out Arni?'
Arnold pushed the last piece of sausage around his plate, coating it in barbeque sauce. 'No,' he said.
He'd been thinking about Gaynor's present for a good five minutes but the anticipation of it had caused him some sort of paralysis which could only be cured by making a play of suddenly remembering it. 'Oh!' he said, delving into his trousers.
'What? What Arni, is it a spider?' Gaynor started to panic and stood up.
'No, your present. Sit! I've got you a present.'
Gaynor clasped her hands to her chest. 'Oh...you didn't have to Arnie,' she said, scraping her chair back over the patio slabs to make some room. She took the box and turned it over in her hands before opening it.
'Well it's our five year anniversary and I thought this one was more significant than the others….except for maybe the first one.'
A gold necklace sparkled in the evening sun. Gaynor held the two ends up to her neck. 'Oh it's lovely,' she gasped. 'Fasten it for me, I can't do it, my hands aren't coordinated, too much fizz.'
'There we are. I love this dress on you Gaynor, it really flatters your figure.' He glared at her bosom in an entitled way.
She laughed and placed her hands over her chest. 'Yes, although it's tight over boobington village today, I think it must be my hormones.'
'Yes….it's your age dear, there'll be fluctuations and flushes. I remember it well when I was married to Lynda.'
'Oh don't spoil it Arni!'
'I don't want you wearing that dress to the horticultural society.'
'Why ever not?' Gaynor laughed.
'That Ken,' said Arni quietly.
He sat down again and put that final bit of sausage, now soggy and cool into his mouth. Ken would love to map the contours of boobington village but he never would, not as long as Arnold was alive. The birds were tweeting, small flying things buzzed around their heads and everything was bathed in the warm, still air, a perfect summer's evening. Gaynor sat with a broad smile on her face, fingertips lightly touching her necklace just to check it was real. 'Pass me the salad dressing darling,' Arnold said through a mouthful of gristly sausage.
'There's only a drop left. You know it's much better to eat your salad first, it's better for your stomach Arni, otherwise the lettuce just rots on top of everything else.'
'Well I always have mine at the end Gaynor...and my body is grateful that I give it any salad at all.' He sighed then gazed down at the beautiful garden and sighed. 'Oh I wish this moment could last forever.'
The last drop of salad dressing left the bottle making a small guzzling sound followed by a man's voice, quiet and ernest. 'I am the genie of this vinaigrette, may your wishes speak true else the wrath of regret.' The genie flew away at once, across the heights of the beautiful garden and up into the clouds to be refreshed and renewed of genie powers.
'Pardon,' said Gaynor.
Arnold looked momentarily puzzled, he cleared his throat, 'I said,' he shouted now, 'my body is grateful for any salad at all.'
Gaynor glanced sideways at her husband and then at the ground. Sometimes he could be angry, impatient with her. Nevermind she had a new piece of jewellery from him, a tangible token of his love. A large dragonfly flew clumsily around the table, hovering close to them at head height, its wings beating out a faint scuffling sound. 'Oh look Arni!'
'Yes, a dragonfly which reminds me, we must top up the pond with tap water, it's turning to soup.' He noticed he that was still chewing that piece of sausage and it occurred to him that whenever he swallowed it there was still some left inside his mouth, as hard as he tried he just couldn't get rid of it. He coughed and made a sort of choking noise.
'Are you alright?'
Arnold nodded and got up from the table, he walked over to a patch of Viper's Bugloss and spat the sausage into the erect purple spires.  As he walked back to the table he noticed the sausage was still inside his mouth. 'Damnable gristle!'
'There can't be any gristle, I got them in the farmer's market.' The dragonfly returned as they sometimes do and frittered around their heads again. 'Oh look Arni!'
'Yes a dragonfly which reminds me, we must top up the pond with tap water, it's turning to soup.' Did I just say that already? He thought, a sense of deja vu took over him. The sausage remained stubbornly inside his mouth.
He got up and was drawn again to the patch of Viper's Bugloss. 'Damnable gristle!'
'There can't be any gristle, I got them in the farmer's market.' The dragonfly returned, the scuffling of it's wings, menacing and persistent. 'Oh look Arni!'
Arnold rubbed his eyes. The colours in the garden, the contrast of light and shade, the stillness seemed intensified as in a dream, a tiresome dream, the sort from which you want to wake but cannot. 'Yes a dragonfly which reminds me, we must top the pond up….'