Memorial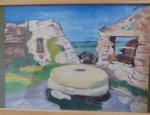 Thu, 09 Jun 2016
Millstone becalmed, stock-still
above the cove;
sculpted walls surround
–  long ground by wind and weather  –
and these remains remind
of grinding roar,
revolving stone,
the busy scene
of days before
the last old miller passed away:
in-coming carts
with harvest yields
from fruitful fields,
converted into flour
for winter farmhouse
kitchen kneading,
feeding
the labourers on the land:
memorial
to bygone tale
of bustling vale –
no need for carved, engraved     
inscription etched,
the stones themselves
upon imagination
the history have sketched.
A story caught,
made famous in the land
to those who understand
the words vernacular,
a favourite verse
in lilting language, lyrical
memorable, words melodic, musical
flowing in patterned sound like song,
pleasing:
cameo of time now gone.
The painting is by a local artist in Trefin (on the Pembrokeshire Coastal Path), J Maddocks, and the famous poem referred to (probably my most favourite poem) is by Crwys* (William Williams 1875 - 1968) and called 'Melin Trefin' - 'The Mill of Trefin'   – from which I have derived many of ideas in this verse. (William Williams used to be rather a common  name in Wales!)
*To pronounce 'Crwys' try saying 'cooee' without emphasising the ending, making it one syllable and adding a soft 's', then add an 'r' after the 'C'!