The Love of the Loveless (Chapter 6) (2)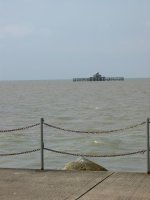 Fri, 01 Mar 2019
      I'd been hoping they'd come in Karen's less 'look at me' Previa.  But no.  The Roller sat there in the estate's tiny car park, like an aircraft carrier wedged in a Cornish harbour.  I felt my anxiety level skip up another notch.  I began to wish I'd taken the bus.  Anything but get in that fucking showboat.  It was mean-thinking of me, though.  It was mum's day.  And she was made up with it.
      "Golly!  I'm going to feel like the Queen in this."
      "You are the Queen, Eve," said Rod.  "Our queen."
      I sat in the front with Rod - at Karen's insistence, because of the leg room.  I'd never sat in a Rolls before.  I couldn't believe the space.  Even the smell was different to other cars.  Not just the leather and trimmings.  Something else.  Money.  That was it.  The smell of money.  We were moving before I'd even realised the engine was running.
      As we pulled out into the road, a couple of people passing by turned to look.  Rod seemed to bask in it.  He pushed a CD into the player.  Smooth piano chords suddenly broke in on the silence.  I knew it straight away. I perked up immediately.
      "This is nice," said mum.  "What is it?"
      "I thought you'd like it, Eve."
      "A Coral Room," I said.  "Kate Bush.  I didn't know you liked her."
      "Oh, yes," said Rod. "Adore her.  Karen and I are going to see her in London next year."
      I felt a pang of jealousy.  I'd love to have gone.  The crowds would do it for me, though.  I could never handle gigs.  Even for Kate Bush.
      We glided along, listening in almost reverential silence.  I remembered hearing Kate being asked about the song in an interview after Aerial came out.  She said how it was about time passing.  About coming in from the world, into a small space.  About focusing on memories.  About knowing you could have something, right there in your hand, and accepting that it would one day no longer be there.  It would be gone.  Whenever I heard the song, and especially when she sang about her mother's brown jug, and how much it meant to her, and that it fell and broke... whenever I heard that, it would bring a lump to my throat.  As if it was warning me of something.  Or preparing me for it.
      I turned my head to look back at mum.  She was sitting in the middle at the back like a strange grey child in the huge seats - her head sunk down between her daughter and grand-daughter, her bag on her lap, the light catching on her glasses in a way that made her look faintly baffled by it all.
      "I feel I ought to be waving at people as we pass them," she joked.
      "I feel more like hiding," said Natalie, echoing my own thoughts.
      Rod glanced at her in the mirror.
      "Well, there's plenty of room to hide if you want to."
      We hit the dual carriageway and Rod got moving.  The car barely seemed to be making any effort.  In the gaps between chit-chat, all you could hear was the music, the creak of leather, the faint rush of air past the windows.
      "We took her with us to France in July when we went to the gite," Rod said.  "It was nice to give her a good run.  The locals loved it.  Most had never seen one before."
      "It's lovely," said mum. "So smooth."
      She was really loving it.  I was pleased for her.  Dad had never had a car.  Never had the money for it.  If she'd wanted to go anywhere, it was either a bus or train.  Sometimes, there was barely the money for those.  He probably drank away the price of a Rolls in his time.  Several, maybe.  More important things, too.  It was tragic.  Karen had no time at all for him come the end, whereas I stuck by him.  I knew he was sick.  He could have made better choices, but he chose the drink.  A selfish choice, yes.  He chose it over all of us.  There was still that side of me, though, that understood it in a way.  I couldn't completely condemn him.  I'd come close enough myself to letting the demons take over - especially, and most tragically, with my marriage.  I broke Lucy's heart.  Smashed it to smithereens.  This woman I loved so much.  Even now, with the benefit of better knowledge about myself, I still found it hard to understand.  I guess, with dad, it had been the same.  Except he hadn't been able to pull himself back.  Or he'd no longer wanted to.  All he'd really wanted by then was the oblivion that booze gave him.  Again, I knew how that could be. I knew how easy it was to just give in to it.  Which is why I stuck by him.  Karen had seen it as some kind of betrayal, after all he'd done.  All the destruction. The row we had after his death brought all of it out.  The stuff that had been pushing at the seams for years.  It was drink-fuelled, too.  The names I called her.  The drink letting it flow from me.  The drink talking.  And what had she called me in return? A useless piss-head.
      "Just like your dad," she'd said.
      My dad.  Not hers.
      It was amazing we'd managed to pull it back, really. Though it felt like a pretence much of the time.  Something we did for mum's sake more than anything.  She'd had enough grief in her life.
      The drive took us way out in the sticks, around lanes and through villages that I barely recognised.  That pleased mum, too.
      "I always miss seeing the countryside.  It's so close by, as well."
      We finally arrived at the pub just before one - a large cross-gabled Tudor building, all black beams, corbels and leaded windows.  Originally the home of a minor noble, most likely.  Now, it was very much the picturesque country inn.  The kind of place John Major spoke of in his cricket and warm beer speech.  The Duke of Bedford.  There was even a green opposite, where the sign hung on a high post.  A blue and red coat of arms, with gold lions rampant and fleur de lys.
      "Oh, this is twee," said Natalie.
      "Natalie... please," intoned Karen
      "It's beautiful," said mum.  "I don't think I've ever been out here."
      We turned into the car park.  The gravel crunched loudly under the tyres, turning the heads of the people sitting at the picnic benches outside.  There were a few admiring glances, but nothing much.  I could see why when we parked.  A Jag.  A Ferrari.  A couple of huge SUVs.  Dealer-Wheelers, as I thought of them.  APCs for the criminal elite.  The one brand new Ford Focus was trying hard to keep up, but it was easily outclassed. The Rolls was probably the cheapest car there.
      Rod ejected the CD, then paused a moment before turning off the engine.  Holding up a finger, he tilted his head forwards towards the dashboard - the whole gleaming walnut sideboard of it.  You hear that? his expression seemed to be saying.  You hear that?  Of course you can't.  Because there's nothing to hear.  When he finally turned the key, the difference was barely noticeable - like a breath stopping.  His mouth twitched at the corners. 
      "Lovely," mum said, clinching the moment for him.
      "Okay, peeps," he said.  "Let's go eat."
(to be continued)