I Talk To the Animals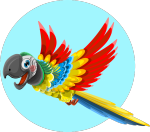 Fri, 03 May 2019
I very often talk to the animals.
Some answer me with a growl
others prefer to remain silent,
or non-committal, like the owl.
An interesting fact that I found
is that even without vocal chords
animate beings produce sound.
The domestic feline is shrewd:
he will only enter a conversation
if the interlocutor gives him food.
This goes for a hungry pooch too;
he will make no bones about it.
If you don't feed him he will say
he has a bone to pick with you.
The parrot squawks very loudly
and seems to be off his trolley.
He keeps saying over and over
something about a "Pretty Polly".
It is with the birds I talk at dawn;
the robin and I are on good terms,
I dig the earth and mow the lawn.
He hops around, picks up worms
and thanks me with a sweet trill.
Some beasts are quite perverse;
they don't like poetry, prefer prose,
and will refuse to speak in verse
but I know that there are still those
who wish to show their poetic skill.
© Luigi Pagano 2019