Fit For Heaven?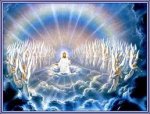 Fri, 28 Jun 2019
Fit For Heaven?
A golden childhood
Silver spoon armed
Under rainbow skies
I sailed the crystal waters
I had pearls of wisdom
To cast before the ignorant.
This mighty oak of manhood
Strutted before the adoring world
I was forever young
And bound to live forever.
Colossus-like
I stood astride the world.
Chill winds of uncertainty
Blew me way off course.
The Iron grip of a slate-grey fog
Gnawed my hollow soul.
The cloudless Blue
Now formless black.
The clock is ticking
Counting down my days
Ponderously hesitating
Formless crossroad signs
Panic froze my soul.
From cocky youth
To an uncertain end.
Transforming, forever shifting
What seemed solid-certain,
Waivers, wobbles and is gone.
So many trod this path with warnings
For those yet to tread
The rocky road to heaven,
From that fog came a steady hand.
Stripped of pride, ego-scrubbed.
Naked once again, yet clothed in love
I saw the pearly gates
And the soft firm hand guided me in.