The Yellow Shoehorn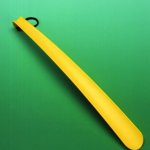 Mon, 19 Aug 2019
1 likes
I never thought that I would mourn
the loss of a yellow plastic shoehorn.
It happened when my wee grandson
rummaged around having great fun.
He was conducting a thorough probe
of the interior of my tall wardrobe
and though he looked quite innocent
he must have hidden that implement.
Even now, at the tender age of six,
he still can get up to all sort of tricks.
It took place when he was very small
and where he put it he cannot recall.
I have not forgotten that petty crime
as it's still missing after all this time.
I have a new one I don't let him see
and I keep it safe under lock and key.
© Luigi Pagano 2019