Ivy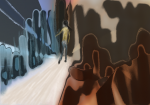 Sat, 24 Aug 2019
Ivy knows the road home;
She ought to,
She's walked it so many times, she thinks,
Back and forth across her own footprints,
Stopping, and turning, retracing her steps,
Spinning herself dizzy,
Still knowing nothing.
She sees the wreckage along the road,
Truth and carnage,
All so bloody.
This time will be different though.
Jody waits by the window.
She hopes and hopes and hopes and hopes,
That this time is going to be different.
All the things she can do another way,
The different words she can say,
In different voices. In different shades.
Her mother said to her: "The Moon comes up yellow every night,
Why should you think the next night it'll come up red?"
She answered her: "Perhaps it'll come up blue."
Even though she knows it hasn't yet.
And its yellow-white light leaves her covered in shadows.
Asleep in the shallows.
But this time – this time – it'll all be different.
Picture credit/discredit: author's own work