Snookered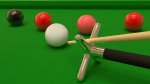 Sat, 14 Mar 2020
Silence prevailed as he chalked cue tip
Advanced and retreated three times
Before it caressed the ivory white sphere.
It set it in motion over the green baize surface,
Gently kissing one of the cherry red orbs,
Slightly disrupting the cluster of fifteen,
And bounced off two of the cushions
Before rolling back to where it once came.
The room came alive as the cue master  
Sat giving his opponent his turn at the ivory ball.
The room applauded as the cue master plotted
His next strike. He stuck once, potting a red ball into a
Corner pocket. He struck a second time
He implanted a black ball into the opposite pocket.
He did that fourteen more times
Before sewing the yellow, green, brown,
Blue and pink balls respectively, into each
Of the different six pockets, one by one.
He needed to embed the final black ball
Into the bottom right hand corner pocket.
The crowd fell silent as the umpire
Polished the ivory white sphere.
He set up his shot, his pulse slowing
With every breath, the audience
Audibly held their breath as he struck
The cue ball. The crowd went wild
Before he realized he'd done it!
He was the first in the championship
To score the maximum of 147 points,
Earring himself a bonus and setting himself
Up to be the bookies favourite to win
The competition.
He celebrated with his hands in the air
And punched his fist high.
Later that night, reflecting on his performance,
He decided to gift the money to the
Special babies unit in his home county
Where his daughter had spent the first
Six weeks of her life. He was pipped to the post
For winner in the final, his daughter watching
Her dad proudly from the green room.
image from pixabay