Fathers and Sons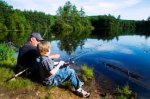 Fri, 18 Dec 2015
He did what fathers do:
he bonded with his son.
Thinking the boy was keen
on pursuits piscatorial,
he bought a fishing rod
and took him to the river.
And there they the stood
for hours in cold weather
that caused them to shiver,
and never caught a fish.
But even so the kid was glad
as he believed that fishing
was his dear father's wish
and the last thing he'd do
was disappoint his dad.
Yet his parent was dreaming
of being on the green
where he was about to sink
a golf ball for an albatross.
And the youngster too
had different ambitions;
he thought that angling
was a complete dead loss
and he'd rather be batting
like Alastair Cook.
They did become great pals
even though they mistook
each other's inclination.
© Luigi Pagano 2015