Tiger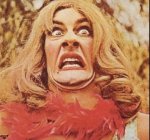 Sun, 29 Mar 2020
1 likes
This is what morning looks like in the supermarket, from my bed sandwiched between the top shelf and the stuttering neon roof panels. There is a vista of decimated aisles, of heel crushed receptacles, of tiled floors skid stained with abandonment and struggle, of upturned trolleys, of a single trainer clad foot which has not moved in a week and often, too often, there is a tiger.
 
I am aware the there are many kinds of tiger- Bengal, Siberia Sumatran, many others I cannot recall, but that would only be of importance if this tiger, my tiger was the kind which did not wish to eat me. My tiger has tried to eat me. Many times. 
 
The tiger knows I need food. It sits and stares up at me and closes its eyes and yawns and cleans itself and we share a look which says, next time.  She has other things to do, unspeakable things, just out of vision. Fortunately. She does them to what remains of the possessor of the trainer, she has done them to others who have taken shelter, took shelter in here. Who have gambled and lost. 
 
For some time now I have been sustained by cat food. I live in the cat food aisle and so I was lucky. When the time came I could have found myself perched atop a sea of cleaning products or pharmaceuticals. A tin of cat food is a challenge when you have no tin opener so I have used my teeth. Not an easy process. Soon the shelves I could reach easily were exhausted as were the shelves I could not reach, without hanging down in a way that made me, appetizing. And when those shelves are exhausted there will be nothing left for me but a footrace. With a tiger. Hunger will do that. It will shout so loudly in your face that you will begin to believe that starvation would be worse than being eaten alive. And not being eaten alive in a good way. 
 
The tiger has tried to climb the shelves. It has tried many times because I am a prize worth climbing shelves for. But these shelves were not designed for tigers and so she tries and she falls and when she hits the ground, gracefully she does not make a sound. 
 
Once, it was so long ago I wonder if it happened, I had a conversation with a woman in aisle 12 – I am in aisle 2 so it was difficult to hear every word. She told me she was going to make a run for it. That she had been a sprinter in her time. And she did make a run for it and she almost made it. Almost. 
 
Tomorrow I will wake and my first thought will be 'where is the tiger' and I will dream of its weight and its breath and its god consuming strength. And then, very soon, it will not be a dream at all.