Looking Out My Back Window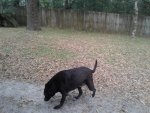 Fri, 10 Apr 2020
Buttercup yellow the kitchen curtains fluttered with the breeze coming in from the open window
A woodpecker with fiery red topping perched upon the sill and tilted its head in askance
But there were no bugs to snatch for breakfast so it flew away.
Three squirrels chased each other down the large oak tree and ran across the yard then up into the crepe myrtles, they flew from the branches up to the highest top before they raced back down again.
A sparrow jumped along happily in the thick grass until the squirrels ran by and scared it away.
Then all motion stopped when a large Hawk landed regally on the highest oak branch and surveyed the yard. It sat still and silent in deadly focus then it suddenly swooped down over the back fence and into the forest beyond; its prey was never seen.
Two red northern cardinals flew through the trees jumping from branch to branch before flying down to the empty bird feeder on the lowest limb. They pecked with frustration before abandoning the feeder for the grass below, hopefully looking for any forgotten seeds that may have fallen there, but none were found. They twittered their annoyance quite loudly at the house before they too flew away.
Then the big Friendly, Black Lab trundled out from the dog door and walked across the yard marking its usual territories before finding the perfect spot in the sun and stretched out on the thick green grass to lie there in undisturbed splendor as the squirrels, woodpecker, sparrow and cardinals relinquished the yard to him.