"Past and Present" Chapter 2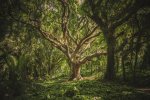 Sun, 05 Jul 2020
"Oh my lord," Stephanie cried out, closing her eyes and hoping to wake up from this nightmare.
"Prayer does not become you either Victoria. I suggest you get up before you ruin this dress beyond repair. Though I know spending more money on a new one will not over tax your conscience."
The disgust and frustration in his voice sent a chill through Stephanie. Maybe she was dead and this was her punishment before going on to the good place or worse yet, maybe she had to change this life first before she could be granted otherworldly peace. If that was the case, she could be stuck here for all eternity reliving this awful life. That was one tough assignment and she didn't want to accept it. Her head throbbed as she sat up.
"Please lord, anything but this," she whispered silently this time, not wanting another opinion from the man standing over her with cold distrust in his eyes. She knew, without knowing how, that it was December 17th, 1899, a Sunday. When they'd returned from church, Victoria had challenged his authority in his home by denying entry to a small boy that she believed he'd fathered. This was also the day Victoria had led him to believe she'd been unfaithful too, wanting to hurt him as much as she'd believed he'd hurt her, but in truth Victoria had never strayed. They'd both hurled hurtful, angry words at each other, words that would be difficult, probably impossible, to take back and knowing these circumstances didn't help Stephanie one bit. She had no quick fix to save this relationship, if in fact that was what she was supposed to do.
She touched her hand to her head and found there was no longer a bruise by her temple, no bump, no pain. This can't be real. Her heart raced and she closed her eyes refusing to believe any of it. If she stayed here long enough maybe it would all go away. She took deep breaths, telling herself it was all a concussed dream and soon she would wake up…wake up in her car with a big bump on her head because a concussion was so much better than this scenario.
"Are you intending to sleep out here then, my dear? If so I shall leave you to it. I much prefer the warmth of my room but you do as you please. Good night to you."
Stephanie opened her eyes and her heart sank, nothing had changed except that Harrison was determinedly walking away from her. If her salvation meant she had to change everything from this moment on; make this life over for better, hopefully not worse, she'd have to start that transformation now. She wasn't Victoria, not now anyway, and her twenty-first century mind could make things a whole lot worse if she wasn't careful but she had to try.
"Wait! Please Harrison," she called out, her voice raw with emotion. It was the emotion of fear, fear of never finding her way out of this time warp, but it worked, he turned around.
Harrison was determined the sorrowful, sweet tone of her voice would not fool him again. He knew she had venom as poisonous as a snake within her. Yet even knowing this, he turned at her plea and his heart squeezed seeing her in the waning sunlight. He had to take a breath because her beauty had always held him spellbound only now, he cursed that weakness.
"Why?" his voice a defeated sigh.
"I think I'm hurt. I need to lean on you…Please?"
To have even her hand upon him would be pure torture and more than he should have to endure. This year of marriage had cost him too much already. After the betrayal she had just admitted to, he would be better served to hold onto his sanity and keep clear of her deceptions.
"I shall fetch you a strong stick to lean upon," he began to walk away faster.
Stephanie sighed and leaned back on her elbows watching him. Okay, so Victoria had hurt him deeply, but truthfully he'd hurt her too. This was a mess she couldn't fix easily, if at all. How could she hope to undo the harm they'd both done to each other, but a flash of insight told her she'd have to, if she wanted to go home again. Maybe, doing the opposite of what Victoria would do could work, for a start. He wouldn't be expecting a polar opposite of Victoria and that might be her best chance at success…or miserable failure.
She decided to try it. She'd kill him with love, truth and kindness or maybe he'd just kill her; there was only one way to find out. She stood up slowly and, with a small dying hope that this could still be a dream, she looked longingly down the road but suspected her old car wasn't there. She was stranded in another century. A sick feeling hit her stomach again and she nearly doubled over but fought it off with anger.
"Damn Karma," she mumbled as she took one small step forward, but her strength hadn't returned fully and she stumbled and fell to her knees. In seconds, she felt his strong hands lifting her up but the voice behind her was still darkly reproachful.
"You couldn't have broken anything you didn't fall that hard. I'd better not find you are playing me for a fool," his tight words were laced with anger even as he supported her weight against him.
"I feel very weak. I don't know what came over me but I promise you, I'm not playing you for a fool…my love," her voice grew weaker on the last, not as sure sounding as she'd have liked it to be but what could she expect. She may have been given a window into this life but she was far removed from its emotions and love was not what she was feeling for anyone, him least of all.
"Love?" He gave a short mirthless laugh, "Do not label me so for I fear it is like labeling poison for candy. There is no love in me."
She wholeheartedly agreed, but Stephanie had to try to convince him that love was still possible between them.
"I disagree; there is much love in you but at this moment just none for me." She looked at him with sincerity in her eyes but he wouldn't look at her.
"How quick you are to forget...my love," he said with droll mockery nearly chocking on the last word, "There is no love in me as you so prettily put it, I am incapable of it."
Stephanie hesitated, what had led Victoria to those words? She tried to bring the memory into focus and suddenly it was there. The angry accusations that had been thrown today showed her their love was dying and it felt real to her.
She squeezed his arm as she answered, "Those were the words of a fearful and troubled woman who believed her husband so magnificent he couldn't possibly be only hers," She was going way overboard in her accolades but she knew Victoria had once felt this way about him, "I've done you an injustice with my harsh words and my insecurities. I beg your forgiveness and for a chance to start anew." The smile she forced as she looked at him was not as open and honest as she'd wanted it to be, but it was hopeful.
Harrison let go of her so quickly that if she hadn't been holding on to his arm, she would have fallen.
He didn't shake off her hand but he wanted to. His eyes narrowed as he warned her, "Play no more of your games with me. We have said all that we needed to say this day! You have your lover, I mine."
Stephanie shook her head as images of their argument crystallized; she tightened her hold on his arm for support. She straightened her shoulders and blurted out what she'd seen.
"I have no lover. I never have. I only said that to hurt you because I believed the small boy was yours. That's why I didn't want to allow him to come to our home."
Harrison's brow rose in question at her impassioned words but his eyes held no forgiveness. "You would do well on the stage, my dear. Perhaps that could be your next entertainment. As for our marriage…it is over." He took her hand from his arm.
Stephanie watched him walk away. He did turn back once to toss her a large, sturdy branch that landed at her feet.
The sound of the door closing firmly was not a very encouraging sign for her plan to change the dialect between them, to make this marriage work so she could go back to her own life, or her reward, whichever this madness was leading her to.
Stephanie picked up the tree branch and began her slow walk to the house. How was she going to change that man's feelings back to love when she couldn't change the history of this one dark day from her past life...or was it now her present?
Stephanie stopped walking, frozen with the thought. Her scream echoed in the darkening hills beyond.
*
Victoria awoke to find herself in a strange conveyance with several men and women in odd white clothing trying to lift her out from it. Her head pounded with pain and a scream ripped from her as she lost consciousness.
When she opened her eyes again, she didn't know how much time had passed but the harsh white room around her was unfamiliar. She felt dizzy but fought to stay awake and focus on her surroundings. Where was she and what had happened to her?
Vaguely, she remembered the argument with Harrison and fleeing the house only to find that strange woman walking towards her. She remembered the feelings of recognition that had passed between them but all the rest blurred.
A sound came from somewhere in the corner of the room but she was afraid to turn her head, afraid the pain would intensify if she moved. A woman in bright white clothing moved into her line of vision and she wondered could the woman be an angel? Had she died when she ran from the house earlier, had she fallen and hit her head and died? Was this Heaven?
Victoria turned her head very slowly to better see the woman, or angel, but a blinding pain froze her movement and forced her back into unconsciousness.
*
Grant drove down the darkened roads in worried silence as he remembered the call from Sam a half hour ago. Stephanie had been in a car accident. A Mrs. Peachtree had called Sam to say she'd found his number on a business card in Stephanie's purse. She'd told him Stephanie had been in a car accident and that her car was in a ditch near her property. Stephanie had collapsed on her lawn and she'd called 911. She'd told Sam the name of the hospital Stephanie had been taken to but didn't have any information on her injuries.
Sam lived too far from the hospital to get there quick enough but he knew Grant lived closer and that's why he'd called him. Sam had been adamant that Grant go immediately and find out Stephanie's condition. Sam had called Mel and she was on her way too and Sam promised he'd meet them both there soon.
Grant felt ill, sick at the thought of Stephanie being seriously injured. He might not like her, but he'd never wish this on her. His guilt was eating at him as he drove.
It was probably his fault that she'd gone off alone on this assignment, so determined to prove herself to the editor because he'd prodded her and baited her unmercifully in the six months she'd worked at the paper.
He was brutally questioning his actions now.
Why did he have so much hostility towards a woman he didn't even know? It was probably due to the guilt he was feeling, but at this moment he wasn't feeling any of the strong dislike that usually filled him when he thought of her.
Stephanie was an attractive woman and, he didn't know why, he'd hated that fact the most. Whatever the reason, the chemistry sparking between them was definitely strong and he may not like her, but he certainly didn't want to see her hurt.
Grant pulled into the ER's parking garage and took a deep breath praying it was a minor accident and she'd be all right. Then he could shake off this uncomfortable guilt and go back home.
Mel paced back and forth in the ER's waiting room waiting for someone to tell her anything about her friend's condition.
When Stephanie hadn't called her this afternoon after the interview as she'd promised,  Mel thought the interview must have gone on longer. When she couldn't reach her on her cell phone hours later, she began to become concerned but not worried, not until Sam called.
Sam had asked her to call Stephanie's family but unfortunately her mom lived in Hawaii and her younger sister, Jennifer, lived in California. Melanie made the calls to them both before rushing to the hospital.
When she saw Grant walk through the ER doors she felt relived; she'd hated waiting alone.
"Grant over here," she called to him.
Grant saw her and walked over to her.
"Have they let you see her?" he asked hopefully.
"Not yet, I haven't seen the doctor on duty but the ER nurse said she's in observation, whatever that means.
 "Can we see her?" He asked. His guilt was beating him up and he had to know she was going to be okay.
"They won't let us, Grant. Not unless you're family."
"Well maybe I'm her long lost brother," he said smiling wickedly and went off in search of the head nurse.
"Ten minutes will be enough. Thank you, Martha," Grant smiled at the flustered nurse after she'd led him to Stephanie's room.
He stood a moment in the hall after the nurse walked away staring at the closed hospital room door. Ten minutes. She would be back in ten minutes. He took a deep breath and pushed open the door and walked into the room.
The lighting was low and the sound of beeps caused goose bumps on his arms but he stepped closer to the bed.
She was there, pale and lost in a sea of white linen. Her face angelic and peaceful but deathly unanimated. It made his heart squeeze painfully in his chest. He sat down in the chair on the side of the bed and touched her hand.  Her eyes fluttered but didn't open. He worried at her frail condition but he still felt a sharp pang of anger at her. It truly baffled him; there was no reason for these harsh feelings, certainly not the strength of them, why were they so strong?
All too soon, the nurse walked back into the room, his ten minutes were up.
"You'll have to leave now," she said softly.
Grant nodded but as he stood up Stephanie opened her eyes.
The nurse smiled and stepped forward blocking Grant's view but he remained in the room needing to know she was going to be okay.
"Welcome back. We've been worried about you."
Victoria blinked trying to clear her vision.
"The nurse took her hand, "Can you tell me your name?"
"Yes," she nodded slightly and in a very weak voice said, "Victoria Pennington."
Grant froze wondering what was wrong with her and who the hell was Victoria Pennington?
The nurse looked at the name on the chart and questioned her again.
"Your name is Victoria?"
"Yes," her voice no more than a whisper.
The nurse wrote something on the chart. "Your brother is here to see you, do you know his name?" the nurse asked Stephanie and stepped aside to reveal Grant.
"My brother is here?" Victoria thought and smiled softly, though her head was still in a fog she was glad her family had come for her. It meant she wasn't dead, her brother Michael was here and he'd take her home. She turned her head ignoring the pain but at the sight of the person standing there her eyes lost their spark of happiness and interest.
"That is not my brother."
"Oh?" The nurse's eyes narrowed on Grant, "Do you know who he is?"
"He's my husband Harrison and can you please tell him to leave."
"Husband?" the Nurse and Grant spoke in unison but Grant was the one with more questions in his tone. The Nurse turned him toward the door and asked him to leave.
"I'm not her husband," he whispered frantically but the nurse shook her head and pointed him out of the room then went in search of the doctor.
Grant stood in the hospital corridor thinking Stephanie had lost her mind. The accident must have caused a concussion, but could a concussion give her a strange case of amnesia where she thought she was someone else and, in her skewed reality, he was her husband? That he couldn't understand at all. Why would she ever imagine him as her husband?