Epiales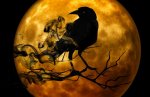 Mon, 10 Aug 2020
You will not want to dream about it again, but you will: almost the dread of it ensures it. In the morning you have been swallowed by a crow, merged into it, self lost and it is mostly the glint of metal that you recall and the ferrous smell of blood; so quickly sticky,
messy,
surprising.
Thoughts of this are always falling or rising somewhere.
You will not want to talk about it again, but you will: almost the silencing of it welcomes it back into conversation. And when you do, you will only say that, once, you wrote on a list of things you wished for that you wanted to know how it felt to be loved and the reminder of this makes you feel intolerably sad. You will tell yourself to breathe,
hold on to the arms of a chair,
hold on figuratively,
hold on. You will tell yourself to think about a species of moth so specialised that it can only live on a particular sloth - the creature so well-adapted that it is unable to exist without it and, you are nothing in the absence of your history.
You will not want to remember it again, but you will: almost the lingering of it forms the memory until it can be seen in everyday objects, woken in smells and sounds, as if it is reflected in the everything of now - callous how it hands you back to the past with such ease - instead cast yourself into your mind's eye for a kingfisher along the riverbank -
one day you will see blue flash into water 
and you will be able to stop walking,
just as this will pass even though in the moment it feels more like dying than panic.
You will not want to return to this place again, but you will: almost in a disproval of the linearity of time; atoms colliding with atoms travelling in reverse, you will search the present to ground yourself, yet you will come back here,
and here is the cave,
here, beating from it, are the bats,
filmy and orchestrated for the dark.