White Stork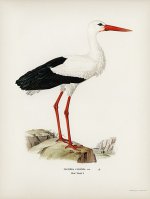 Sun, 08 Nov 2020
We all think about birth,
perhaps because we don't remember it;
the moment of emergence and separation 
from sanctuary, when light and air
seared eye and lung, our first cry - 
forgotten, so we must ask for this history 
over and over again 
as if this will mould a memory. 
 
And we wonder what genes
have pulled us in a particular direction:
the inheritance of a reluctant smile,
the scarlet of a beak or
a propensity for goodness.
The white stork is just as mysterious,
its time counted in movement,
where to wade is slow, and patient
for these masters of the shallows
who are spectators of the gestures
of water. But we pace our own pools,
keep our own secrets, and
having thoughts of wings,
we imagine destinations.
Smaller birds roost 
in a stork's broad nest -
a joint ambition built sturdy,
fertility in bill rattle for each egg 
as though it was a receptacle 
for all the divisions of evolution 
that ever swam the blood.
We muster like storks for good weather - 
that in flight we might recover
an inner truth that leads us back
to hope, back to a start 
where there was only the simplicity
of love between us, and in this acceptance
of how we arrive and depart,
we will also consider death. 
If you would like to see some beak clacking, this video gives me joy: https://m.youtube.com/watch?v=fDqu4Qi5oVo
Image above from here: https://commons.m.wikimedia.org/wiki/File:Bird_illustration_from_Svenska_Fåglar_(Swedish_Birds)_by_the_von_Wright_brothers_from_rawpixel%27s_original_edition_of_the_publication_00293.jpg
Also on Twitter: https://commons.m.wikimedia.org/wiki/File:John_James_Audubon_-_American_Stork_-_WGA01059.jpg
https://commons.m.wikimedia.org/wiki/File:Cyconia_(stork)_-_Der_naturen_bloeme_-_Jacob_van_Maerlant_-_KB_KA_16_-_080r_a1.jpg
https://commons.m.wikimedia.org/wiki/File:Ciconia_ciconia_-_01.jpg#mw-jump-to-license