A Crocodile Can't Be Loved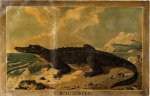 Thu, 26 Nov 2020
When I met him, he had a soft-bellied,
serpentine charm, sharp smiled 
the white of lilies, he wore a hat of twigs -
a gift for any absent-minded wader's nest 
and he greeted the visits of thirsty bee-eaters
with a tell-tale savage kiss.
I should have seen how low he laid
in the river, his cold intimacy 
with the mud, primordial as the ooze and
scaled and armoured to strike, 
an existence of all jaw,
and all bite.
And a crocodile belongs to no one
element, fragmented between earth and water,
from lethargy to the snap of the chaos 
of violence. Only the darkness 
is a crocodile's friend, when moons of eyes 
shine in the blackness of a fluid sky.
At night, 
he is a horse for gods, 
he weighs souls, and
arrogant; once a plover 
has submitted, he sleeps
with his mouth open wide 
for me to gingerly pick his teeth. 
 
I should have known 
when I saw him grip a wildebeest 
by a hoof - the fragility of the undefended,
dragged to the silence of still water 
of a laboured struggle ended - instead,
I said, look how here death
keeps its uneasy peace with life. 
 
 
Image is from here: https://commons.m.wikimedia.org/wiki/File:36,_Crocodile,_Charles_Catton%27s_Animals_(1788)_(cropped).jpg
On Twitter: https://commons.m.wikimedia.org/wiki/File:Nymphaea_nouchali5.JPG#mw-jump-to-license
https://commons.m.wikimedia.org/wiki/File:Egyptian_plover.jpg
https://commons.m.wikimedia.org/wiki/File:PloverCrocodileSymbiosis.jpg
Also this very funny image of a crocodile from a bestiary: https://commons.m.wikimedia.org/wiki/File:Crocodile_-_British_Library_Royal_12_F_xiii_f24r_(detail).jpg