June 16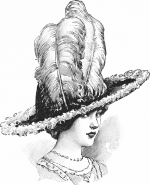 Tue, 15 Jun 2021
A weatherman from one of the news programmes was drunk and he knocked a plate from the hands of a dignified woman, the wife of a tycoon from the midlands. The woman cried out in horror, her Edwardian gown now salad-spattered and for all intent and purpose ruined.
Sorry, love.
You absolute….Oh, it's YOU! My word.
Cathy ignored the commotion and kept serving plates to every jumped-up randydandy that approached.  She had no ticker to tell of, so she kept one eye on the Casio replica her nearest colleague wore as she ached for the next break.
Hard to track time in this giggling economy.
The colleague's name was Katya; she'd informed Cathy earlier that to Dublin she'd come from Kiev in pursuit of her ex-man who'd stolen some money from her. She kept a switchblade in her purse in case she ran into him.
Why are the people all dressed like that? Katya asked Cathy, looking over the sandwich table at a sea of feathered hats and flat caps.
The book is set early in the last century, replied Cathy. I think that's why they're dressed this way.
What book? asked Katya.
Ulysses. You know? That's what this is all about.  Bloomsday is all about that book.
I thought Bloom was a saint. Like Patrick. It's just a book? What a big deal! And what about him over there?
Who? Him?  He's a tycoon from the midlands, I believe.
Really? said Katya, grievously.  He looks like someone I know.