Diaspora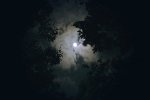 Tue, 22 Jun 2021
When evening slides
downward and shadows
creep into view
you can hear the
trilling tunes of loons
heralding a sparkling sky.
There is discomfort in sounds
of prey and hungry ones
out seeking game - rabbits
no longer playing games.
Fireflies flicker from low
bushes calling for a friend to
share this branch.
The snarl of a coyote
ensures smaller creatures
remain in hidden quarters.
Each has a role to live
in the expose of a
forest which looms larger
than its tallest trembling aspen.