The Voice of a Jay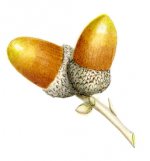 Mon, 26 Jul 2021
A jay buries the living;
remembers
the memory of some,
hoarded for snow,
how it will shimmer and numb
under beak, under a hard eye,
remembers glitter through dirt,
grit and stone and squirm,
here he will listen
for the darkness to speak 
of treasure. 
This is the distance
of hunger, and others,
the forgotten ones, rise
as green shoots of Lazarus. 
He calls them thunder
when they break the earth,
remembers
old friends, more boughs
will bend, and being landlocked,
this feathered Druid 
will bring sky and wings,
offer his voice and take
fresh tokens for new gods of oak. 
Image is from here: https://commons.m.wikimedia.org/wiki/File:Quercus_pubescens_acorns_illustration.jpg
Also on Twitter: https://tinyurl.com/2r2hd3pz