Saint Patrick's Day (17/3/21) : Part 3 by Mr A.N.Muggins
Image: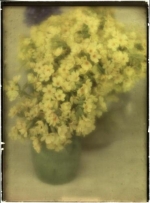 Mon, 23 Aug 2021
     Alfred had, of course, done his best to explain the Scottish Succession element of the British Union of Crowns a few weeks before, and then launched a full explanation of (or assault upon? – depending on your way of thinking) Scotland, its history and culture. He had definitely not been intending to do a similar job upon Ireland, knowing how extremely sensitive its history (and culture) was reputed to be!
     Alfred was thinking. All of a sudden the incredible brainwave revelation of a thought came to him that his own family name Muggins might conceivably actually have some Irish roots! Come to mention it it did seem to have a slight (or even considerable?) Irish ring to it. (Weren't the Irish known to be even more mugs than the English?)
     He suddenly imagined himself as an Irish Chieftain, wearing a kilt, with a family of beautiful Irish wives and daughters, a whole Royal Clan of his own!
    Another thought came unbidden to his brain, of alternatively being a Protestant Orangeman, marching with his flags on the streets of Ulster, wearing a fully orange costume and waving the Flag of St. George with the Ulster symbol in the middle!
     Which was it to be? (and would it really matter which? He quite liked the idea of both of them – but don't tell that to either the Catholics or the Protestants!) He waited with trepidation to find out his possible heritage, while he asked the calm, patient, and unbiased oracle Lady Alexa (the kitchen music computer), "Alexa, where does the surname Muggins come from?" She replied, after taking a couple of moments to cogitate, "An English family named Muggins settled in East Lothian at the end of the 12th Century."
     So there it was, the oracle had spoken! Well Alfred was dumbfounded, having become suddenly very convinced that he must have at least some Irish ancestry, despite not having the faintest idea about which side of the barricades, or which side of the street some of his ancestors might have been born on. Would it really have mattered anyway in this modern enlightened world of religious, racial, and historical toleration and cultural crossover?
     Anyway it seemed that the Muggins roots lay in Scotland and England, and not at all in Ireland, according to Lady Alexa, and she should know, being a computer and privy to all the vast knowledge of the internet! His 'Irish heritage' it seemed never existed, and was not to be, unless some other strand had crept into his family tree, which was largely unknown to him. Nevertheless he felt there was the slight spark of Irishness in his soul, as there was Scottish! If there were any comfort to be drawn from the news, it was that he could be pleased to have even more of a Scottish Connection than he thought he had, but alas no Irish.