A Hot Afternoon in Malki Chiflik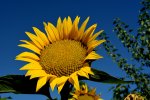 Mon, 30 Aug 2021
1 likes
Nothing moves. There is no breeze.
No birds fly by in the cloudless sky.
No creature has the will to disturb the cruel tranquillity.
Not even bees.
Too warm to swarm or gather pollen from the sunflowers
That mockingly smile as earth cracks at their feet.
Gaping fissures like mouths desperate for drink.
Trees stand solemn and still like lofty gravestones.
Memorials to past days of rain and
Cooler times before August's furnace came.
Leaves wrinkle and crinkle and dry
Beside fruit that blushes and swells
Making me wonder where it finds the energy.
For I have none.
In a shadow a sleeping Tom
Plays hide and seek with the fierce rays.
With time to bide for the heat to subside,
Only the cat can win.
Nothing stirs. Nothing purrs
'til dusk shaving off a few degrees
Brings shelter in a conflict with this swelter.